{{ root_page.title }}
Let's Talk SEND – Events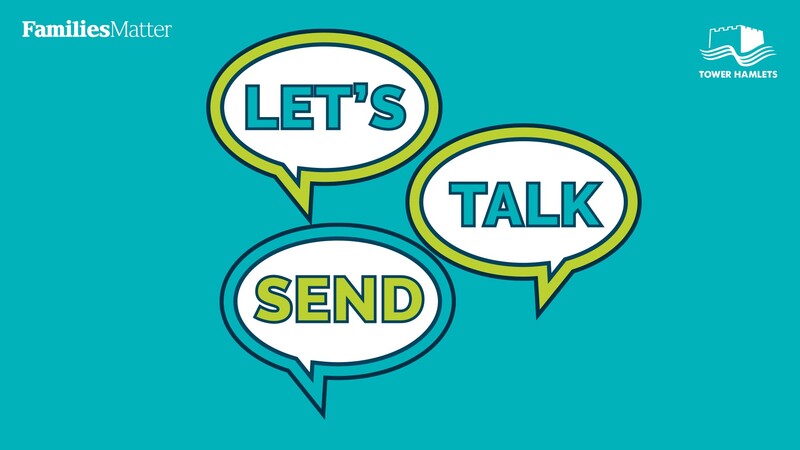 Let's Talk SEND – Events
Hear from Senior leaders about the Local Area SEND System, find out more about plans following the SEND Local Area Inspection and share your experiences to help improve communication throughout the SEND System.
Termly events take place at various venues across the borough. Events are face-face where possible and repeated at twilight via Zoom.
Upcoming Events
Summer term 2023: Parent Led Information Marketplace
Arranged by the Tower Hamlets Independent SEND Parent and Carer Forum and tower Hamlets Parent and Carer Council.

Saturday, 17th June, 10am - 2pm, St Pauls Bow Common

Includes limited 10 minute slots for 'bitesize' SEND advice. Find out more on the June 2023 Information Marketplace Event Page!
Previous Events and Presentations
Autumn term 2021: Launch Event Information Session
Tuesday 22nd November, 10.30 – 12.00, Brady Arts Centre
Wednesday 23rd November, 5.30 – 6.45, via Zoom
The SEND improvement journey – Divisional Director of Education
Designated Medical Officer and Designated Clinical Officer – Roles and Responsibilities
Family Information Service and Local Offer
Spring term 2022: Early Years Information Session
Tuesday 1st March, 10.30 – 12.00, Children & Family Centre Mile End
Wednesday 2nd March 2022, 5.30 – 6.45, via Zoom
The SEND improvement journey - Divisional Director of Education
Early Education and Childcare
Children and Family Centres
Speech and Language Provision
Summer term 2022: Preparing for Aduldhood (PfA)
Tuesday 5th July, 4.30 – 6.30pm
Wednesday 6th July, 5.30 – 6.45, via Zoom
The SEND improvement journey - Divisional Director of Education
Steps to Employment- PfA
Transition 14+ Adult Social Care
Spotlight- Creative Arts Youth Service
Autumn term 2022: Let's Talk SEND Information Marketplace
Wednesday 9th of November, 10:30-13:00, Brady Arts Centre
Let's Talk SEND Information Marketplace Presentation
Let's Talk SEND Information Marketplace Flyer
Summer term 2023: Post 16 Options
Saturday 13th of May 2023, 10:30am-2pm, Brady Arts Centre
An information event for parents, carers and young people with Education, Health and Care Plans (EHCPs) in years 9-13
Let's Talk SEND Post 16 Presentation - Written Statement of Action
Transition from CAMHS to Adult Mental Health Services
Preparing for Adulthood - Pathways to Employment