Young Carers: Support and Advice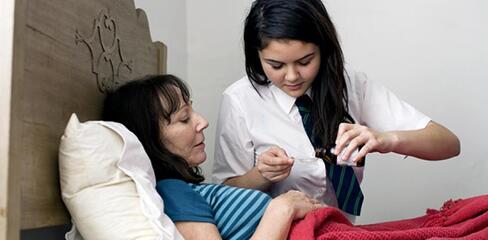 What is a Young Carer?

A Young Carer is a person aged 18 or under who cares, unpaid, for a friend or family member suffering from any of the following:
A long-term illness/condition
A physical or learning disability
A drug or alcohol problem
A mental health condition.
The support provided by a young carer varies but typically it involves a combination of personal (such as helping to dress or bathe them), practical (such as cooking, cleaning and shopping) and emotional care (such as talking through their concerns with them).
According to the last census, in Tower Hamlets there are around 3500 young carers, with many more going unidentified. These young people miss out on valuable experiences and opportunities because of their caring responsibilities.
The Young Carers Project

The Young Carers Projectis run by Tower Hamlets Youth Service for all young carers in Tower Hamlets. The project aims to provide young carers the opportunity to take a break from the daily responsibilities of being a carer by interacting with others facing similar challenges.
The group will take part in activities such as art, drama, music, photography, canoeing, biking, climbing, swimming, cinema, bowling, and other activities as decided by the young people who attend.
What is involved in the project?
access to weekly respite sessions
school holiday activities
residential breaks
days out
1:1 support
Weekly club-based sessions are held every week from Limehouse Youth Centre, Limehouse Causeway, E14 8BN. The sessions will run as follows:
Weekly club based sessions are held every week from Hailebury youth centre Ben Jonson Rd, London E1 3NN
Mondays, 4–6pm for 8–12 year olds
Tuesday, 4–6pm for 13–18 year olds
For more information please contact:
Samantha Anderson
Young Carers Engagement Officer
Tel: 07985 607 928
Email: [email protected]
Tower Hamlets Young Adult Carers Project

Young adult carers are people age 16 to 25 who live with or care for a family member or friend with long term mental illness, physical illness or disability. Often, when a young person is looking after a parent, they have to take responsibility for younger brothers and sisters too.
Caring for someone at a young age can have a huge impact on mental health and life chances, with young adult carers suffering from a range of conditions like depression and anxiety, self-harm, eating disorders, poor educational attainment, social isolation and unemployment.

What we offer:
Groups
An informal weekly social group for carers to meet and make friends
Monthly information sessions on topics like mental health, healthy eating, relationships and personal development
Book club
Film club
Targeted one to one support for specific issues such as
Employment, education and training
Housing
Welfare benefits
Mental health / Emotional support
To enquire call Young Adult Carers Support Worker Ben on: 07869 387 665 or [email protected]