Bookmark Reading Charity's Face -to- Face and online volunteering in Tower Hamlets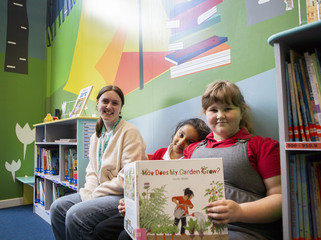 Children's literacy charity, Bookmark, is bringing its one-to-one reading programmes to primary schools in Tower Hamlets and is calling for volunteers to support local children with reading as we start this crucial new school year.
School disruption due to Covid has had a dramatic impact on some children's reading in the last year, with primary school children losing on average two months' progress, and some children much more. Volunteers can help children catch up by volunteering face-to-face in a local primary school, or by volunteering online.
Helping a child to learn to read is hugely rewarding and there's never been a better time to get involved. Taking an hour out of your week to read, play games and chat with a child about anything from dinosaurs to distant planets might just be the perfect way to brighten up your day and give back to the community.
Bookmark programmes are designed to fit around volunteers' schedules. Volunteers in Tower Hamlets can visit local schools for reading sessions, or, if volunteering online suits them better it can all be done from a home computer or laptop. Each reading programme involves two 30-minute sessions a week, for six weeks, with a child aged five to nine. Volunteers receive full training and support and can select their session times to fit their schedule, using the Bookmark app.
Most importantly, this support could make a lasting difference to a child.