Tower Hamlets is developing a New Special Educational Needs & Disability (SEND) Strategy.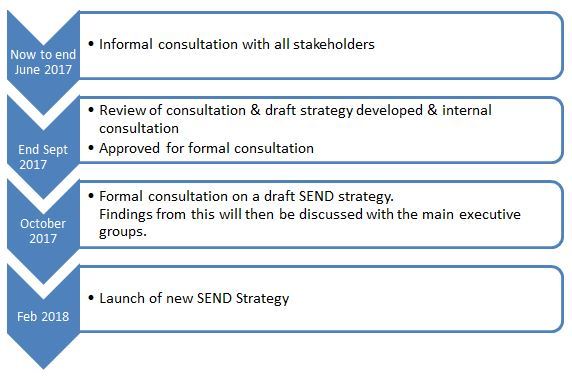 The London Borough of Tower Hamlets, together with Tower Hamlets Clinical Commissioning Group (TH CCG), are committed to developing a new SEND strategy. This was a key recommendation of a recent review of SEND carried out for the council http://www.localoffertowerhamlets.co.uk/blog_articles/1030-2016-send-review?term=SEND+review).
How is the new SEND Strategy being developed?
The new SEND Strategy is being developed over the coming year and will be ready to launch by February 2018.
May and June 2017: Informal Consultation
To help us to develop the new strategy we are asking those of you involved in SEND, especially parents / carers and those working to support children and young people, to give your views about future priorities and to help outline a vision for the next five years. These views and the findings from the recent SEND Review will help us to write a draft strategy. There will then be a second chance for you to make comments later in the year.
Over the coming weeks, we are holding a number of events and meetings with parents / carers, with young people, schools and professionals across the Council, NHS and the voluntary sector. Information about these will be posted in the 'news' section. http://www.localoffertowerhamlets.co.uk/blog_articles
All the feedback will help us to write and develop the final strategy and a summary will be published on the Local Offer site.
July to end September 2017
We will review the findings from the informal consultation and discuss a response with leaders in the Council and the NHS. We will then prepare a draft of a new SEND Strategy ready for further consultation.
October 2017 – Formal Consultation
Formal consultation on the new SEND Strategy is planned for October this year. More information and copies of the draft strategy will be available nearer the time. Responses to this consultation will be considered by the main executive groups in the Council and TH CCG. This will all be reflected in the final SEND Strategy.
February 2018
We are aiming to launch the new SEND Strategy early in 2018. The launch will include information for parents / carers about priorities and how you will be kept informed about progress.
Get involved
Events
Consulting parents and carers – come along and tell us how things should look in the future at the Parents Advice Centre 10-12 noon, on 13th June 2017.
Email pac@towerhamlets.gov.uk